A Citizen's View of Home Depot
Not in Our Hometown: The Orange Wars
This story was written more than ten years ago. It provides a background on Home Depot, which is often forgotten as a big box menace because of the focus on Wal-Mart.
But this story will give you a sense of why you should avoid shopping at Home Depot (and its blue version, Lowe's.)

All across America, the headlines in daily newspapers describe a battle between citizens' groups and a company that one magazine describes as "America's most admired retailer". If Home Depot is so admirable, why are so many community groups and homeowners fighting hammer and tong to keep them out? Here is another side of Home Depot that you won't find in their Annual Report. Thousands of local residents are engaged in the Orange Wars–an effort to save their home towns from Home Depot.
Home Depot, the company with the orange box logo and the cartoon carpenter with his cap pulled down over his eyes, is proud to tell you that they are the world's largest home improvement center retailer. In March of 1997, HD passed the 500 store mark. Sales topped $19,500,000,000 in 1996, and are projected to reach $24,000,000,000 in 1997. The company plans to open 111 new stores in 1997–one ribbon-cutting every three days. By 1999, Home Depot wants 930 stores operating. By comparison, their nearest competitor, Lowe's, had roughly 402 stores as of January, 1997.
HD was founded by Bernie Marcus and Arthur Blank, who tell their employees that they were fired from Handy Dan, a California company. Bernie was the President of Handy Dan, Arthur was VP for finance. They didn't like how Handy Dan operated, so they started a new company called Home Depot, which opened its first stores in Atlanta in 1979. Home Depot notes that Handy Dan is a "former home center retailer" that is now out of business.
Home Depot is targeted primarily towards DIY: do-it-yourselfers. The new concept was to create a store that made you feel like you were in a wholesale warehouse, which HD describes as a "no frills environment with a simple merchandise presentation that reduces overhead costs and allows us to pass those savings on to the customer in the form of lower merchandise prices". The typical HD has 11 departments (lumber, building materials, flooring, paint, hardware, plumbing, electrical, lighting, garden, kitchen & bath, millwork, and decor). The average store is 105,000 square feet. According to HD's 1995 Annual Report; sales per store at HD was $787,000 per week, or $41 million a year. Sales per square foot at a HD ranges from $340 to $390, depending on which company source you believe.
HD has a three part merchandising philosophy: 1) good customer service 2) low day-in, day-out (DIDO) pricing, and 3) a large assortment of stuff. "If a competitor does offer a sales price lower than our DIDO price," HD says, "we meet and BEAT that price."
In addition to the DIY (do-it-yourself) market, HD has two other kinds of customers: BIY (buy-it-yourself) customers who don't have the time or expertise to install materials, and PBC (professional business customers) who need truckloads of materials delivered to their site.
The Home Depot Culture: Orange-Blooded.
HD describes its own corporate culture as "definitely a feeling–it is commitment, belief and faith." Employees at HD have been described as "orange-blooded", and it is clearly important to the company to make its workers true-believers in the culture.
Home Depot's corporate culture appears modeled on Wal-Mart. In fact, HD has been described as "Wal-Mart with a hammer". Here are some examples of how the corporate culture in Atlanta and Bentonville are similar:
Their founders are given revered, messianic status: Sam, Bernie, Arthur.
Customer Service Hype: Sam Walton's 10 foot rule (if you come within 10 feet of a customer, greet him) is expressed at HD as : "we never walk by a customer without speaking."
Everyday low prices (ELF) vs. day-in day-out pricing (DIDO).
Calling employees "associates" & being strongly anti-union.
Wal-Mart says the customer is the boss. Home Depot says "only a Store Manager may ever say 'no' to a customer."
Both companies are pursing a saturation strategy: locating stores as close as 7 miles apart. Both companies have an ambitious projection of new store openings.
War-Like Environment: Death to the Competition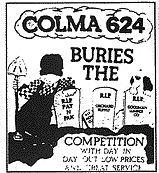 Two examples of Home Depot culture will help explain the attitude that exists inside corporate headquarters:
The Tombstone Affair: At the Colma, CA store (#624), associates wore T-shirts with the motto "Colma Buries the Competition With Day-In Day-Out Low Prices and Great Service". The logo bore a picture of Homer, the HD cartoon carpenter, leaning on a gravedigger's shovel, next to four tombstones, with R.I.P. on each marker. HD's main competition each had a tombstone, including Pay N Pak which had been put out of business. One manager from a competitor store says he saw such tombstone T-shirts elsewhere. "I have seen these MARKERS in front of stores in Colma and Fremont…the idea that Home Depot wants to coexist with other area stores is almost insulting to us who compete with them. Since Home Depot opened in the Pittsburg (CA) area, the local True Value store, in business since the 30s, has disappeared, two local nurseries, a flooring store, and a landscape supply yard also gone or sold."
Afterburners: Business is Combat. That's what Home Depot teaches its managers. Home Depot uses a training company called Afterburner seminars to teach its managers how to prepare and carry out a business mission like fighter pilots. In 1996, Afterburner Seminars taught 1,800 of Home Depot's managers. First, they conjure up a scenario that threatens Home Depot. The managers then divide into squadrons of 12. The enemy is "Lowesnia", after HD's competitor Lowe's. HD said it chose Afterburner to train its management team because the retailer wanted to instill a sense of teamwork and reinforce competitive spirit. To do this, managers are told that a coalition of competitors–Lowe's, Builders Square and Menards–have banded together to destroy Home Depot's dominance over the home improvement business.
Home Depot As Competitor: Saturation
The signs are obvious. The home improvement industry's retail food chain is being eaten from the bottom up. The mom and pop stores withered, and now the regional chains are dying. Companies like Rickles, Handy Andy, and Grossman's are history. In 1993, After one year in the Chicago market, Home Base closed all its stores and transferred its leases to Home Depot. "The smaller regional players are getting squeezed," said an analyst with Brown Brothers Harriman. "They are banding together or getting out entirely, or shrinking back to a base where they think they can continue to exist."
"Local merchants have no choice but to give way," a market analyst with Hancock Institutional Equity Services told the Christian Science Monitor. "Regional chains and small independents are likely to feel increasing pressure to merge with rivals, or quit," said the Wall Street Journal in January, 1997. it has been Home Depot's mission to "bury" its competition. James Inglis, former Executive Vice President for Home Depot noted that "Orchard Supply (in CA) proved to be one of the few regional chains Home Depot failed to take a real bite out of."
Grossmans is a perfect illustration of what has happened in the home improvement market. It's service area is littered with orange-and-white striped empty stores. Grossman's at its peak in 1983 once controlled 345 stores, but went into Chapter 11 in January, 1997.
There is no question that Home Depot dominates the home improvement market. As Countryside Retailing magazine put it: "Having almost saturated the major metro markets, the company is seeking new avenues of growth. President Arthur Blank announced in May of 1994 that Home Depot is developing a store prototype 'which we think will be more appropriate for rural America'. He could not say how large the stores might be."
As an analyst for Citicorp Securities told the Wall Street Journal in January of 1997: "Home Depot and lowe's are going to make it very difficult for anybody else to get in."
napa… A Case In Point: In most towns it enters, Home Depot has not been challenged to show how its need for $41 million in sales will impact other area businesses. But a significant amount of register sales at Home Depot are "captured" from other competitors. In Napa, ca, for example, the developer of a Home Depot claims that the area is under-retailed, yet acknowledges: "There's only so many retail dollars around."
In fact, according to the city's 1996 General Plan, Napa's market capacity for building supply goods was $38 million in 1993. This means that the addition of a store with sales of $41 million would more than double the entire sales capacity of the community. The same studies show that Napa has very little "leakage" of shoppers going outside of the area to purchase building supplies. "For building materials, the recapture is low, since these store categories currently display a limited leakage of sales to other areas." In other words, for Home Depot to succeed, it will have to largely cannibalize sales from other merchants. Because Home Depot already has stores in Vallejo, Fairfield, Rohnert Park, San raphael, and El Cerrito, it will "import" little or no new business into Napa. As much as 70% of the expected building supply sales at the proposed Marketplace would be shifted from other businesses, creating a form of economic displacement–rather than economic development. Simply stated, what Home Depot brings to Napa, is already there.
Market Share: The CASH study
There is very little published data that examines the market dominance of Home Depot. One survey, however, provides useful data in a market with roughly a quarter of a million adults. For the past seven years, the San diego Union-Tribune has been conducting its "CASH" study of market share in the building supply industry. CASH stands for "Continuing Analysis of Shopping Habits in San Diego". Based on interviews with 3,600 households annually, the CASH study shows Home Depot gaining significant market share of commonly purchased products. The chart below shows rising market share for hardware, exterior paint, interior paint, hand/power tools, and plant/lawn/garden supplies.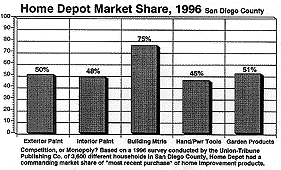 In the 1996 study, for example, 50% of the consumers surveyed said they had purchased exterior paint in the last 12 months from Home Depot. This is an increase from 26% of the market in 1990. The nearest competitor had a market share of 12.6%. Home Depot had nearly four times the market share of its nearest competitor.
For interior paint, Home Depot increased its market share from 27% in 1990 to 48% in 1996. Its nearest competitor had only 13% of the market.
For hardware and building materials, Home Depot moved from 60% market share in 1990, to 75% in 1996. It's nearest competitor was Home Base, at 8%!
For hand or power tools, Home Depot rose from 28% market share in 1990, to 45% share in 1996. It's closest competitor was Sears, at 24%.
For plant, lawn or garden care products, Home Depot increased from 26% share in 1990, to 51% share in 1996. It's closest competitor had less than 10% of the market.
Studies like this indicate that most communities should expect to see significant competitor losses when a Home Depot comes to town. For this reason, it is imperative that communities conduct a market capacity study to understand their market potential, before they take action on a Home Depot proposal. Communities are increasingly asking the applicant to underwrite the cost of an independent analysis of market capacity and Home Depot's economic impact on property taxes and sales revenue generated at other businesses.
No other home improvement company is positioned to add 100 new stores a year to its base. As seen in locations like Napa, CA, reno, NV and Nashua, NH (see stories below), Home Depot is positioning stores only a few miles apart, hoping to reach the enviable position of competing with itself for market share. In this regard, Home Depot does not represent healthy competition. It represents a dangerous drive towards monopoly.
Home Depot As Employer: The X-Files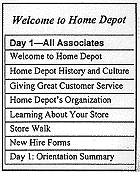 Home Depot places great emphasis on its workforce. "Our people set us apart from our competitors," they brag. Sounding like an episode from the X-files, Bernie Marcus explains that "The Home Depot culture is passed on generation to generation of orange-blooded associates."
Yet people who come to work for HD have no job security, and are, in fact, employees at will. Here is an excerpt from the HD Associate's Guide:
"As an associate of Home Depot, your employment is guaranteed for no set definite term, and you have the right to terminate your employment at any time, at your convenience, with or without cause or reason. Understand that Home Depot also has this right."
In other words, the company can let you go any time, without any justification or cause. The company's termination policy also includes a "reduction in force" policy, in which an associate can be involuntarily discharged because the company is down-sizing. "HD plans and schedules to keep RIF terminations to a minimum," the handbook explains.
Home Depot employees can also be subjected to "substance abuse" drug tests, and this extends to prescription drugs. Any employee who tests positive for a prescription drug–but does not have a written prescription, will be terminated.
HD employees must also agree to submit to "a search of personal belongings while on company property." Each employee is issued a locker for storage of personal and company-issued equipment. Personal locks are prohibited. "Home Depot reserves the right to search associate lockers."
Female employees at HD are allowed to wear skirts, but they cannot be shorter than three inches above the knee. Clothing which reveals midriffs, cleavage, or shoulders is not allowed. No spandex, or exercise clothes are allowed. No T-shirts are allowed.
For male employees, hair must be neat, clean, and "conservatively styled". Beards, mustaches and sideburns must be kept "neatly trimmed"
Cashiers: Trapped
Here is how an inter-office HD memo describes their cashier's position: "In our culture of customer service, the cashier is ALWAYS in the spotlight. A cashier is trapped in their assigned 3′ by 5′ area and can't even go to the bathroom without permission. They are put into this incredibly stressful situation and told that they are to remain upbeat, positive and superefficient for 8 hours a day. They are the gatekeeper. They are the last person the customer has contact with, so they've got to be the best performer in the store to leave the customer with a positive impression."
The Glass Basement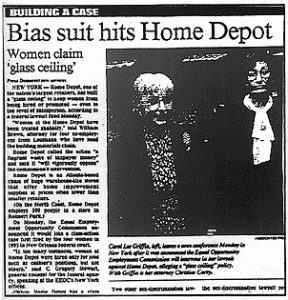 HD's employee's manual contains an Equal Employment Policy. "The company will not, under any circumstances, discriminate against an associate with regard to race, age, sex, color, national origin, religion, or disability," says the employee manual. But here's what Women claim has happened in practice:
Several hundred thousand women employees and applicants claim that Home Depot has trapped them inside a glass basement of employment discrimination. The Depot is actually facing at least three such lawsuits.
In March, 1997, the U.S. Supreme Court refused to stop a huge class-action lawsuit encompassing 217,000 current and former employees and job applicants in the Home Depot Western Division, covering 150 stores.
In the same month, the federal Equal Employment Opportunity Commission moved to intervene in a 1995 lawsuit covering 310 Home Depot stores east of the Mississippi. A third lawsuit is pending in New Jersey. This is the largest sex discrimination case the EEOC has ever taken on. The HD response? Home Depot said it was "puzzled and outraged" that the federal government has intervened in a class-action sex discrimination lawsuit against the nation's largest building supply retailer.
Home Depot employs a total of more than 95,000 workers. According to one media account, 70% of the company's merchandising personnel are men, and 70% of the cashiers and back-office employees are women. Discrimination against Home Depot is alleged in hiring, job placement, training, promotions, and compensation. An attorney with the EEOC said: "While Home Depot has a glass ceiling, it traps its female employees in what amounts to a glass basement, with glass walls." According to the EEOC, "in too many instances, women at Home Depot were hired only for jobs such as cashier's positions–but not others." The company told reporters: "We are very proud of our record of hiring and promoting women to every level in the Company." In a memo to employees entitled "What We Are Committed To", Home Depot's management said: "The Home Depot is not going to bend to the pressure of those who seek to capitalize on our success- -and your success–so that they can pursue their own self-interested agendas…we are fully confident that the truth will ultimately be realized by all–that there is no better place for women and men to work than The Home Depot."
Recycling Employees
HD made headlines in 1995 for firing a janitor in its San Jose, CA store because he spent 10 minutes of his workday separating recyclable garbage. HD was besieged with 120 calls from supporters of janitor Bard Reynolds. Four members of the San Jose City Council introduced a proposal to require large companies like HD to recycle garbage, and the city's recycling department offered the company a free environmental audit to set up a better program.
Overtime Pay: Employees Are Abused
Zaira Guerrero was recruited by Home Depot out of college. She began as an associate manager in Home Depot in Miami. In theory, she was in training. In practice, she worked 70 hour weeks for a fixed annual salary of $24,000. "I was in training a year and a half. I had the manager title," she said. "Overall, I was doing regular employee work–helping customers on the floor, stocking shelves, even being a cashier when they needed one". It wasn't until Guerrero left Home Depot in 1994 that she questioned whether the company owed her overtime pay. After she filed a complaint, the U.S. Department of Labor investigated Home Depot's associate manager program nationwide. It took more than two years to reach a settlement, which entitled Guerrero to $4,205.55–a fraction of what she figured her overtime pay would have been worth. By then, the two year statute of limitations had run out, so Guerrero no longer had the option to sue Home Depot. The company says it worked closely with federal officials to answer their concerns. HD now says that it makes sure that associate managers don't work more than 40 hours a week. "Employees don't know their rights, and they are being abused," says Guerrero.
Home Depot as Philanthropist: 29 cents per week

Every HD store has a budget for making contributions to local community organizations, says HD. Its workers "volunteer their time to make our communities better places to live." "We do more than just hand our checks to charities," says HD, "we help make advances in community service, environmental concerns," etc. The fact is, HD says it contributed $8.6 million to charity in 1996, a year in which total sales exceeded $19.5 billion. By comparison, if a family with $35,000 gave at the same rate as HD, it would equal a donation in the church plate of 29 cents per week. Not much to write home about.
Furthermore, half of many gifts come from the workers, not from the company. Under the "matching gift" program, the worker's gift is matched 50 cents on the dollar by Home Depot. The "Team Depot" program is a group of employees in a store that offers its time to work on a community project. Workers are reminded that HD does not pay for time spent helping the community: "Participation in Team Depot takes place during your personal time."
Home Depot does not allow "non-associate groups", like the Girl Scouts, church groups, Boy Scouts, the military, etc. to raise funds on Home Depot sidewalks or parking lots.
Taking Care of Customers: Poor Citizenship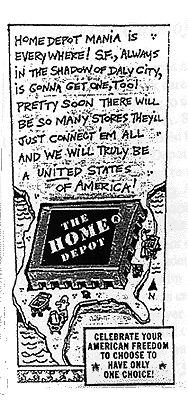 Home Depot says that "taking care of customers is our #1 priority. HD took care of Soon Kim–but not the way she expected.
According to a personal injury lawsuit filed in April, 1997 in King County, WA. Superior Court, Kim, a 51 year old woman, suffered a traumatic head injury shortly before Xmas in 1995 at a Tacoma Home Depot.
Kim went to the HD that day in search of supplies for her kitchen remodeling. She asked a HD employee to retrieve a cabinet door located high above the sales floor. Climbing the shelving units to reach the item, the employee slipped and lost his footing just as he was pulling the door off the shelf. He dropped the heavy door on Kim's head, and then landed on top of her as he too plunged to the sales floor 10 feet below. Kim was knocked unconscious. Home Depot's assistant manager was called to the scene, where he took a photograph of Kim. Kim's lawyer says HD did not offer to to assist Kim out of the store, and did not call an ambulance. Kim left 15 minutes after the accident. On the way home, she could not remember how to get to her residence. Once home, she complained of a headache and felt dizzy. She has no recollection of the doctor's visit she made that afternoon.
Her lawsuit seeks damages from Home Depot to pay for her medical expenses, which have reached $25,000 and are climbing, plus pain, suffering and loss, as well as lost earnings. Kim's 17 year old son says his mother has been unable to work since the accident, and can no longer drive a car. "She simply can't remember how to get home," he said. Kim's lawyer says that despite HD being clearly negligent for these injuries, the company has refused to help with any of her medical bills. "The corporation is aware of Kim's financial situation, and figures they can reduce their financial exposure by forcing Kim into a premature settlement. This is a prime example of poor corporate citizenship on the part of Home Depot." Home Depot's "adjustment policy" is reportedly not to pay medical bills of injured customers until the victim agrees to settle the entire case.
The HD store in Tacoma reportedly has a history of safety violations. In 1996, the Washington State Department of Labor & Industries fined the store after an inspection revealed "serious' violations related to faulty electrical equipment. That same inspection revealed the store had no plan in place to report unsafe conditions–such as the practice of climbing store shelving.
In the past few years, there have been thousands of injuries at retail warehouses, some fatal. Home Depot says that "no one is more important than our customers". Washington State Inspector Mark McHarg says: "I don't particularly like walking up and down the isles in most stores because of my experience with it."
Taking Care of Customers: "You Got That Right"
According to a media story in the December 18, 1995 issue of the Fairfield County (CT) Business Journal, in November of 1995, a lawsuit was filed in Stamford, CT Superior Court, claiming that two Home Depot employees at a Danbury store refused to accept a customer's return of a $155 thermostat. The lawsuit claims that the Home Depot employees called a Jamaican-born customer a "nigger" and threatened to beat him. According to the suit, the customer did not have a receipt for the thermostat, and was not offered a refund or a store credit. The plaintiff claims he saw a white woman exchange merchandise for cash without a receipt. The customer claims he told a Home Depot employee: "I bet if a white person were returning this thermostat, you wouldn't give them such a hard time." To which, the Home Depot employee is alleged to have responded: "You got that right."
After some arguing took place, another Home Depot employee came over, and the customer stated "he had no intention of leaving the store until this matter was taken care of." The customer claims that the 2nd. Home Depot employee said: "If you don't shut up, I'm going to kick your black ass and have you arrested. The customer says he was "crying, humiliated and extremely upset." As he was leaving the store, he told the Home Depot employees: "You'll hear from my lawyer", to which the second employee allegedly replied: "Whatever, nigger."
The lawyer representing the customer says she can't sue Home Depot on civil rights grounds, because a private company can discriminate as much as they want to. Instead, the claim was filed as an unfair trade practice, because Home Depot did not follow their own return policy, which permits returns of merchandise without a receipt in exchange for a store credit. Customers must have an ID for record keeping purposes, and can't make more than three claims in any 12 month period.
Fire Danger at HD: Clouds of Hazardous Smoke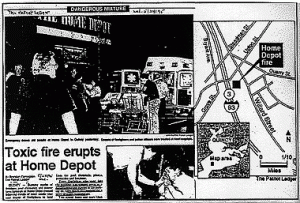 Communities considering a Home Depot application need to seriously examine their fire-fighting capacity.
In May, 1995, a fire broke out at the Home Depot in Quincy, MA. The Patriot Ledger described the fire this way:
"Burning stacks of fertilizer, pool chemicals and plastic lawn furniture at Home Depot created billowing clouds of toxic smoke that sent dozens of firefighters to local hospitals last night… The fire created a toxic mix of hydrogen chloride and other gases…Every firefighter who went into the building was washed down at a decontamination station in the parking lot…two school buses and 15 ambulances were called to take firefighters and police officers to hospitals."
The smoke was considered hazardous enough to call the 26 members of the regional hazardous materials team. The firefighters were fighting chemicals that could have caused burns on exposed skin. The crush of customers in the parking lot hindered the arrival of fire engines and ambulances."
According to reports, because of the way HD stacks its merchandise, much of the material continued to burn because water could not reach it. "You had about a minute to get out of the store–it happened that fast, " said the Quincy Wiring Inspector, who said it was a matter of seconds before the heavy, thick smoke spread through the store. "I would say that anybody that lingered more than a minute wouldn't have got out," said the Inspector.
City Council President Mike Cheney said he was worried about the smoke danger. "It's scary, because you know there are a lot of chemicals in there. There was a blanket of smoke rolling through the neighborhood." "People were panicing," said a HD cashier. "What would you expect? The building was on fire."
Home Towns, or Home Depot?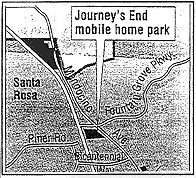 Home Depot likes to say: "Good Things Happen When Home Depot Comes to Town". Many communities around the nation have fought bitterly to prevent Home Depot's brand of "good things" from happening to their town. Here is a "home-town tour" of communities that have had close encounters with the orange-blooded company:
Santa Rosa, CA : Journey's End for Home Depot. On a warm afternoon in early June, 1995, Lola Strom, a senior citizen who lives in the Journey's End Mobile Park in Santa Rosa, opened her mail to find a letter from a company called Crossroads R/W. It says on their letterhead that they are "Governmental Acquisition & Relocation Specialists". The letter informed Lola that the owners of her Mobile Park were planning to change the zoning of her park and close it down. "They have found a buyer," the letter continued, "the Home Depot company, who plans to build a new retail store on the property after the park closes and after all the residents are properly relocated into new housing situations." Lola learned that Home Depot would prepare a Relocation Plan for all the elders in the park. They will receive information, counseling, moving assistance and other benefits which "will ease the burden and costs of moving". "We fully understand the effects of relocating from a place that has been home' for many years," the company assured Lola. "Please do not feel compelled to move out," the letter added, "until the new store and the Relocation Plan are approved" by the Santa Rosa City Council. Lola was told she would be given 6 months notice of the park's closing. The 200 elderly residents would have to move so that Home Depot could lease the land to build a 154,000 square foot store on the north end of Mendocino Avenue. "It'll break our hearts when we have to leave here," one elderly resident told the media.
But Lola and her neighbors never had to move. They began gathering petitions asking city officials to reject Home Depot. The City Manager came out against converting 13 acres of residential land into retail. After all, Santa Rosa's General Plan for land use called for "preserving existing mobile homes, and preventing conversion of mobile home parks to other uses." Home Depot was undeterred. "We're confident that the opposition will recede," HD lawyer said, calling conversion of the park "inevitable". HD had recently converted 39 mobile homes in Seattle, WA into a new store–so why not here too? "They have a great tiger by the tail," warned the mobile park residents. The elders began appearing weekly at City Council meetings, and plans were underway for a 5 hour picketing session at a nearby Home Depot.
The picketing never happened, because Home Depot decided to "relocate" their proposal instead of relocating the elders. "They said it was generating more heat than they wanted to endure, said Mayor Jim Pedgrift. For HD, it was the Journey's End. But it was a Journey that never should have begun. Home Depot unsuccessfully tried to add one more "home" to their chain, by closing the homes of the elderly. Since withdrawing from Journey's End, HD has explored at least two other sites in Santa Rosa. Each time, the elders have followed their moves, urging public officials to keep them out of Santa Rosa city limits.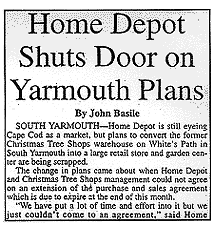 Yarmouth, MA: Home Depot Scrapped. It was an early Christmas gift from Home Depot to the town of Yarmouth, when company officials announced in March of 1997 that they were pulling out of this Cape Cod community. The building supply chain told reporters that they could not agree on an extension of the purchase and sales agreement with the Christmas Tree Shops, owner of the industrial warehouse they wanted to rent. "We have put a lot of time and effort into it," admitted Home Depot's public relations manager, "but we just couldn't come to an agreement." Members of the Yarmouth Citizens for Responsible Development suspect other motives for the sudden withdrawl. "Maybe Home Depot came to the realization that is not economically feasible to open that store on Cape God," said one resident. "The real reason I suspect," wrote group leader Harriet Ronander, "is that Home Depot couldn't meet the conditions laid down by the Cape Cod Commission and the Regional Policy Plan." Because of regional land use planning on Cape God, the Commission was expecting Home Depot to produce a detailed economic impact report, and that report would be critiqued by an independent economic analyst. Home Depot never supplied the necessary reports, and may have anticipated a lengthy legal battle if they pursued the project. The company lost a vote in a special town meeting in Yarmouth in August of 1995, 549 against to 342 for. A second vote was held in April of 1996: 24% of voters supported HD, 20% voted against, and 56% didn't vote at all. Home Depot bussed in its employees from other stores onto the Cape to hold signs on streetcorners promoting a Home Depot vote. The votes, however, were nonbinding, and HD ending up withdrawing from the project. Home Depot has picked another site in Plymouth, MA, near a rotary just off the Cape, where the Cape Cod Commission cannot reach them. 
Encinitas, CA : Home Run ? Home Depot hired a series of political consultants to help them win an election in Encinitas. The consultants later wrote about the campaign in a magazine, explaining how they overcame "highly motivated environmental-leaning voters". "Behind this solid victory," the consultants wrote, "was a careful strategy by Home Depot's consulting team." HD paid for 4 consulting groups; a media relations firm; a field operations consultant; a consultant to shape strategy and message; and a polling/voter targeting firm. HD urged town officials to quickly hold an election, because "support for Home Depot could only diminish over time…as opponents raised fears…a (quick) election deprived the opposition of sufficient time to mobilize effectively". Home Depot paid for a phone bank to make calls to voters, a computer-generated mailing, and an advertising campaign. Consultants conducted an absentee voter campaign that they credited with giving them the margin of victory, which was 63% for Home Depot to 37% against. Like a politician running for office, Home Depot spent its money liberally on voter turnout, instead of hammers and nails. The consultants proudly called this vast expenditure of corporate money to win an election a "Home Run for Home Depot".
Nashua, NH: Flip Flop. Residents of Riverview Garden are suing Home Depot for proposing to put up a 130,000 s.f. store only 70 feet from their apartments. The Nashua Planning Board in November, 1996 approved a request to amend previous zoning approvals for the mall where Home Depot wanted to locate. The Nashua Zoning Board overturned that decision in January, 1997, but a week later backed down and voted to support Home Depot. The Zoning Board denied the project initially based on noise, traffic and pedestrian safety. The residents in the abutting apartments said that Home Depot would ruin the character of their neighborhood. The owner of the housing complex took the decision to court. Nashua, by the way, already has a Home Depot located several miles away on the other side of town.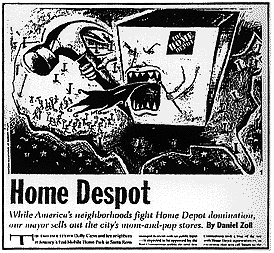 Reno, NV: More Saturation. Home Depot petitioned the City Council in May of 1996 to change its Master Plan and Zoning Ordinances, grant variances, and issue special use permits to build a second Home Depot in Reno, six minutes from the first store. The City's Planning Commission rejected the proposal unanimously because it didn't meet any of the 10 findings needed for a special use permit, was in violation of hillside-development ordinances, and ignored buffer requirements between residential and commercial properties. But the City Council voted 4-3 to approve it. The Home Depot will literally be feet from neighboring houses. 
Clarendon, VA: Too Big. Homeowners in this community told a County Planning Commission that a Home Depot would only bring "noise, traffic, air pollution, and decreased property values". Abutters said the 103,000 s.f. store was too big for the site. Residents successfully defended against Home Depot's request to have the land rezoned for retail. County planning officials warned Home Depot to either reduce the size of their project, or "stack" a second story onto a smaller store base. The project received a "resoundingly negative response."
Mansfield, NJ: Letter-Writing Campaign. Residents near this historic district of Beattystown spent nearly three years fighting a mall that was to be anchored by Wal-Mart at one end, and Home Depot at the other. As the project grew more unpopular and more heated, Home Depot eventually withdrew from the project. The developer's lawyer blamed a citizen's letter-writing campaign as the reason why Home Depot dropped out of the proposal. The project ultimately received approval, without a Home Depot. 
Greensboro, NC: Citizens Spooked. In 1994, nearly 800 petition signers fought to rezone 18 acres of hillside land for a Home Depot. After the Guilford County Commissioners approved the rezoning, residents took the decision to court. The lawsuit fizzled, after homeowners ran scared. They were "spooked", according to one newspaper account, when Home Depot and the developer sought damages from them that could have totaled thousands of dollars. City and county planners opposed the rezoning because of traffic and pollution. Home Depot made important concessions to the angered community: they gave the store a red brick facade and agreed not to use the loudspeakers in the garden center.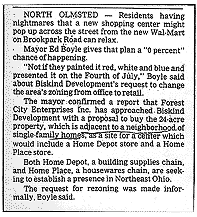 North Olmstead OH: Zero-To-Bad for Hone Depot. The welcome mat was not out for Home Depot, which wanted to locate across the street from a Wal-Mart in North Olmstead. Home Depot and 3 other retailers wanted 24 acres rezoned from office park to retail. According to the Sun Herald newspaper, the developer "is sure to be stalled by a ring of fire from area residents." Ward 4 Councilman Dean McKay predicted: "I'd give it a zero-to-bad chance of getting through. The fact is, We already have too much retail in North Olmstead. There's a lot of vacant stores." McKay said he doesn't have a problem with retail development. "It's when they start infringing on a residential area that there's a problem." The developer mailed a fact sheet to area residents warning that "to maintain its position as a leading regional retail center…North Olmstead must continue to attract new retailers that are the cornerstone of today's market." But according to the newspaper, "it is doubtful that many North Olmstead residents would mourn if shoppers chose to go elsewhere." A real estate developer offered local homeowners an "above market price" to entice them to Sell out. Last spring, Mayor Ed Boyle gave the project O% chance of happening. "Not if they painted it red, white and blue and presented it on the Fourth of July," Boyle said. The Park West Homeowners Association organized to stop the project, while the developer conducted a survey designed to show that consumers want a Home Depot. But what one Ohio newspaper called "the Home Depot invasion" finally drew up short in North Olmstead. The City Council in February, 1997 voted unanimously to deny a zoning change, which effectively blocked Home Depot's efforts on that parcel. According to Home Depot spokesmen, the Atlanta-based retailer is looking to build stores in eight other locations in the greater Cleveland area.
Cary, NC: Wrong Color. In 1993, city planners in Cary objected to the orange color of Home Depot's proposed store, saying that only the main sign could have that color. Home Depot resisted that demand, but finally gave in when the Town Council sided with their planning staff.
West Roxbury, MA : Misinformafion suit. In this Boston neighborhood, Home Depot sued an opposition group's lawyer for libel. In a letter to the editor of a local newspaper, lawyer James Rosencranz claimed the company spread "misinformation" in its two year battle for zoning permits. A judge dismissed the Home Depot suit a month after the store opened.
St. Charles, IL: Corporate Welfare? Home Depot, a company with annual sales of nearly $20 billion, asked the city of St. Charles for $8.5 million in tax incremental financing to help spur a development in the Cave Springs area. The new TIF district proposed by Home Depot would receive tax subsidies over the next 10 years. TIF has been a "controversial form of public assistance," said the St. Louis Business Journal, "since taxing jurisdictions, especially school districts, don't reap the tax benefits of new development." HD originally asked for $8.5 million, but the city negotiated the amount of tax subsidies down to $3.9 million.
New York, NY: No Thanks, Mr. Mayor. The City Council of New York in December, 1996 voted thumbs down on a proposal by Mayor Rudolph Giuliani that would have opened the door for megastores like Home Depot to open outlets in industrial areas of the city. Manhattan City Councilwoman Ruth Messenger led the effort to block the rezoning plan. When Home Depot was expanding in Queens, NY, citizens claimed that HD's two top executives had tried to buy political favor. In 1992, Chairman Bernie Marcus and President Arthur Blank each gave $6,500 (the maximum allowed) to Giuliani's campaign.
San Francisco, CA: A Terrible Idea Whose Time Has Come. Cable cars aren't the only things that go up and down in San Francisco. So have the fortunes of Atlanta-based chain Home Depot. In 1996, Mayor Willie Brown called HD's proposal to lease space in San Francisco's Pier 80 "a terrible idea". "We must discourage the encroachment of large chains and outlets," Brown said, "which tend to stifle job growth and export dollars out of the community." Seven months later, HD hired the Mayor's former campaign manager, Jack Davis, to nail the deal shut. Davis was paid $30,000 by HD to meet with the Mayor and 'discuss plans and exchange information' regarding a Home Depot for the Port. These discussions led to a 45 minute tour by Mayor Brown to a nearby Home Depot, Hizzoner emerged from Home Depot with a change of heart. "He had a very positive experience", Davis said. "I'm definitely Home Depot shopping," the Mayor told reporters. The residents of the Mission Park neighborhood successfully kept Home Depot from locating a store in their community.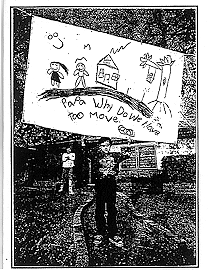 Riverside, CA : Papa, Why Do We Have Too Move ? Jacob Hernandez and his Madison St. home stood in Home Depot's way of building a 131,00 s.f. store. His seven year old son scrawled sketch of the family home, with the 3 words: "Papa, Why Do We Have Too Move?" Hernandez enlarged the paper to a sign, and put it on his front lawn. Hemandex refused to sell his home to HD. He inherited the home from his father, and wanted to pass the house on to Jacob, Jr. "At least I've tried," Hernandez told reporters. "That's what I can tell my son. At least I didn't roll over. Residents of Riverside were angered when their own Redevelopment Agency offered to loan Home Depot $730,000. Home Depot would actually loan the Agency the money, and the Agency would pay Home Depot back with interest out of tax incremental financing. "Why does a multi-billion corporation need help from Riverside's Redevelopment Agency," asked the citizens' group.
North Greenbush, NY: Need a Firestation ? Citizens in this small (15,000 pop) community that overlooks Albany vowed to fight off a developer who has already put up a Wal-Mart/Grand Union mall in their community, and now wanted to add another shopping mall anchored by Home Depot. The mall was slated for the intersection of Routes 4 and 43, in the Defreestville neighborhood of town, in a Professional Business District in a predominately residential area with 1,300 residents. To build the mall, the developer, John Nigro, needed the 5 member Town Council to change the zoning. Residents feared he would try to overlay a Planned Development District which might allow a large mall. But the town was in the final stages of adopting a new zoning plan, including a more progressive PDD district that requires the built environment to be compatible in scale and character with the residential character of the town, limits stores to community businesses, and restricts retail use to buildings no larger than 40000sf gross floor area. The developer offered to build a new firestation, much to the pleasure of the Defreestville Fire Department. But the Defreestville Area Neighborhoods Association fired back: "Our Association will not be "blackmailed" by any developer seeking to develop our community in a manner that is inconsistent with its current residential/neighborhood business character and the proposed Master Plan for the area." The North Greenbush Democratic Committee came out "firmly opposed" to the Home Depot project. The developer said publicly that he had no agreement yet with Home Depot, and declined to give any details of his negotiations with the company. But the residents of Defreestville had a letter directly from Home Depot. Mark Bander, the Real Estate Manager for the Atlanta-based chain, wrote to neighbors in early January and told them " the existing Route 4 corridor has the best roadways to service the development with the least concerns to the community."
The developer said the Home Depot site was the ideal place for such a development. However, the 35 acres that Home Depot wants was zoned "professional business district", and was bordered by single family homes to the north and east. The North Greenbush Master Plan committee presented a new zoning map that keeps the property zoned office park. In addition, local officials offered the developer at least three other sites, including one just across Route 43. Nigro has rejected all offers. "It's smaller, and the elevations and esthetics would not be as pleasing as the one across the street", the developer explained.
"Permitting commercial activity on this site would seriously undermine the town's ability to contain commercial development to only this site," the Master Plan Committee warned the Town Board. "The act of allowing commercial development on (this site) would set a precedent that would lead to a step-by-step dismantling of the professional business district zone." The neighbors have stated their position very clearly: "Runaway commercial development in our neighborhood would be a disaster."
The developer summed up his case by saying: "Home Depot and the others know where they want to be." The citizens of North Greenbush also know where they don't want Home Depot to be. The Master Plan committee handed HD a rejection, voting to keep the land zoned professional business. Home Depot is now reportedly looking for other sites in North Greenbush.
Manalapan, NJ: An Outright Ban. Public opposition to a Home Depot in 1991 became so intense, that officials in this New Jersey town decided to rewrite their zoning bylaws to exclude building supply stores. Home Depot then sued the town, and the litigation lasted four years until it reached the New Jersey Supreme Court, where Home Depot lost. The Court affirmed that the Manalapan ordinance had been properly adopted and was valid, "even if in response to public opposition", and was not inconsistent with the town's Master Plan. Home Depot's lawsuit forced taxpayers in Manalapan to pay for the town's legal defense for four years. But today there is no Home Depot in Manalapan.

New Hartford, CT: Home Depot Yo-Yo: Residents of this small community have sent a letter to Bernie Marcus, CEO of Home Depot, urging his company to drop plans to build a store on Route 202 just feet away from the more populated Torrington town line. "This land is in the Farmington River watershed," the group wrote. "There are wetlands on the land, it is isolated from other commercial uses, and surrounded by residences…there is no water or sewer service, no storm drainage, and no professional fire department." The residents told Bernie: "We are adamantly and unequivocally opposed to construction of the type that Home Depot represents…we will do everything we can to prevent such construction." The company has only said that it has "nothing pending" in the town, but the town's Zoning Officer said "a major retailer" has requested an application to build on the site. Local residents went to Town Hall and photocopied a check paid by a Manhattan engineering firm for site maps. On the memo line of the check it says "Home Depot". The check is dated December 26, 1996–nearly three months earlier. One neighbor told a local reporter: "I'11 be close enough to see the glow of its lights, and hear some yo-yo calling for 24 two-by-fours on the intercom from my yard."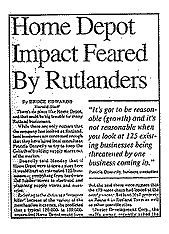 Rutland, VT: Another Letter to Bernie. A group of citizens and small businesses, Rutland Region First, has formed to oppose efforts of Home Depot to locate as store in the town of Rutland, Vermont, which circles the city of Rutland. The citizen's group has sent a letter of opposition to Home Depot's CEO, Bernie Marcus. The first Home Depot in Vermont was located in Williston, when a last minute switch was pulled between a Sam's Club and the Home Depot. Sam's "assigned" its lease to Home Depot after the project had already battled through its approval. The city of Rutland is the community that allowed a Wal-Mart to come to town–but only if it located in downtown Rutland in a 78,000 s.f. vacated Kmart.
Napa, CA : No Special Deals for Home Depot. A group called Napans for Responsible Government is challenging a developer's efforts to add a 118,000 s.f. Home Depot to the South Napa Marketplace, which is currently anchored by a Target. The master plan for the Marketplace calls for a limit of 80,000 s.f. for the available space. The developer has underplayed the sales that Home Depot would take from other area businesses. "What is Home Depot going to do to the home improvement business in the area?" the developer asked. "Personally, I believe they won't do all that much." However, a 1994 study done for the city of Napa shows that the current building supplies market is around $40 million. A Home Depot in nearby Rohnert Park is bringing in $46 million in sales. This means that Home Depot alone requires more revenue than the entire sales pie of roughly 50 other stores in the city. The same study showed that Napa loses very little in sales leakage for building supplies to other communities, because the city already has a good cross-section of hardware and building supply stores. Residents are asking town officials to keep the limit at 80,000 s.f and not give the Atlanta-based retailer any special deals. 
Port Chester, NY: Murder the Local Merchants. A Home Depot proposed for the village of Port Chester, NY spawned two lawsuits: one from the neighboring city of Rye, and one from the Rye Citizens Committee. According to the Westchester County Business Journal, both suits accuse Port Chester of trying to push the Home Depot project through with no regard for any negative impact that might occur in surrounding communities. The lawsuits seek to nullify Port Chester's zoning change resolution that would clear the way for a 101,000 s.f. Home Depot. The citizen's lawsuit says that the village was predisposed to approve the project, which will "murder the local merchants and devastate local neighborhoods." According to the Metropolitan Chapter of the American Planning Association, a 150,000 s.f. store will directly increase congestion costs by $5 million per year. The report also said that a store of that size would increase the number of traffic accidents and add to noise and air pollution. "These impacts are so complex and significant," states the suit, "yet deliberations on the Home Depot application were so flawed. It constitutes absolute evidence of predisposition, mind-boggling rubber-stamp determinations."